Learn Calligraphy
Hello! My name is Kalo, I am a calligrapher based in Hong Kong, specialises in western dip pen calligraphy and I'm so glad you've found me! I've been teaching and sharing my passion in the arts and calligraphy since 2014.
I offer 3 types of workshops - dip pen, brush pen and watercolour. There are 2 levels for the workshops - Beginner welcomes anyone without experience, Improver welcomes students who wish to fine tune their calligraphy skills.
To learn more, please check out the video below!
LEARN WITH ME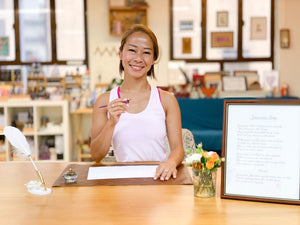 Calligraphy Supply
My calligraphy studio is located in Central, the city center of Hong Kong, where I host calligraphy workshops and as well as sell calligraphy supplies. My shop stocks a large range of penholders, nibs, ink, paper, copysheets and books.
The studio is by appointment only, simply email me at info@kalomakeart.com if you wish to arrange a vist. You can also shop online too!
SHOP WITH ME
Calligraphy Services
Bespoke calligraphy adds a personal touch to your brand and products and I can certainly help you to achieve this!
I offer writing service and on-site events calligraphy - from personalizing stationery (invitations, place cards, envelopes, etc), glassware to leather goods, I'm well experienced working with global brands!
HIRE ME
Sneak Peek of Kalo Make Art's Calligraphy Workshops!
ONLINE COURSES NOW AVAILABLE!
KMA Studio
Room 201, Ivy House
18-20 Wyndham Street, Central, HK
info@kalomakeart.com
+852 - 6028 1237
*by appointment only, please email at info@kalomakeart.com