Bridelicious Hong Kong
 | Hong Kong's Inspirational Wedding Blog 
7 June 2012: Hong Kong Bespoke Wedding Invitations: Kalo Make Art
Bespoke Invitations: Kalo Make Art.Wedding stationery. The one element of a wedding that many in Hong Kong skimp on. How many times have you received an invitation, opened it and all you see is a flimsy red card with gold hotstamp text (the text that's so shiny you can't even read it)? The ones with no thought put into it because it's from a generic template and you feel under underwhelmed by the couple's lack of effort. Listen up boys and girls, if you've got enough budget to fly all the way to Europe to take your pre-wedding photos, surely you've got the dough to splash out on some meaningful invites. Even if your budget doesn't allow you to be too funky with the design, there are still ways to incorporate your style and personality into the invite. Excite your guests and give them a glimpse of the fun to be had at your wedding. Use some imagination.
Earlier this week, I had the opportunity to meet the uber artistic Kalo of
Kalo Make Art
, and I must say, I have fallen in love with her original designs. From the moment we started chatting about her work, I could tell that she is passionate about creating bespoke invitations that tell a couple's story so that it's not merely informative but become a valuable keepsake. Kalo's approach is unique in that she spends time with her clients to find out about their story, their personalities and their upcoming wedding plans. She creates
Pinterest
moodboards with different themes, be it vintage, rustic or carnival, so that couples can see what they like and allows her to visualise the styles they're looking for. Since it's custom-made, you'll not see your invitation anywhere else so rest assured, yours will stand out amongst the sea of cookie-cutter invitations out there.
Kalo is also an illustrator so she may well add some hand-drawn art to your invite. For one couple, she illustrated a replica of the vintage Swedish map that hung on the wall of their flat and transferred it to the invitation. She even drew the hotel that the guests were to stay in. The amount of detail that went into the illustrations is unparalleled. That's dedication for you.
Kalo's work goes beyond the wedding invitation. She designs a whole range of wedding stationery such as save the dates, escort cards, seating plans and even wax seal stamps for envelopes. She's also got an in-house collection of wedding stationery that are playful and pretty and can be customised to match your wedding colours so if you're not too bothered about telling a story, they still work great for any wedding. For bespoke designs, she advises couples to start the process at least 4-5 months before they intend to send out the invitations. Go on, you still have time before your winter wedding! You're in safe hands.
p.s.
Kalo Make Art
is on
Localiiz
, the one stop directory for your lifestyle needs.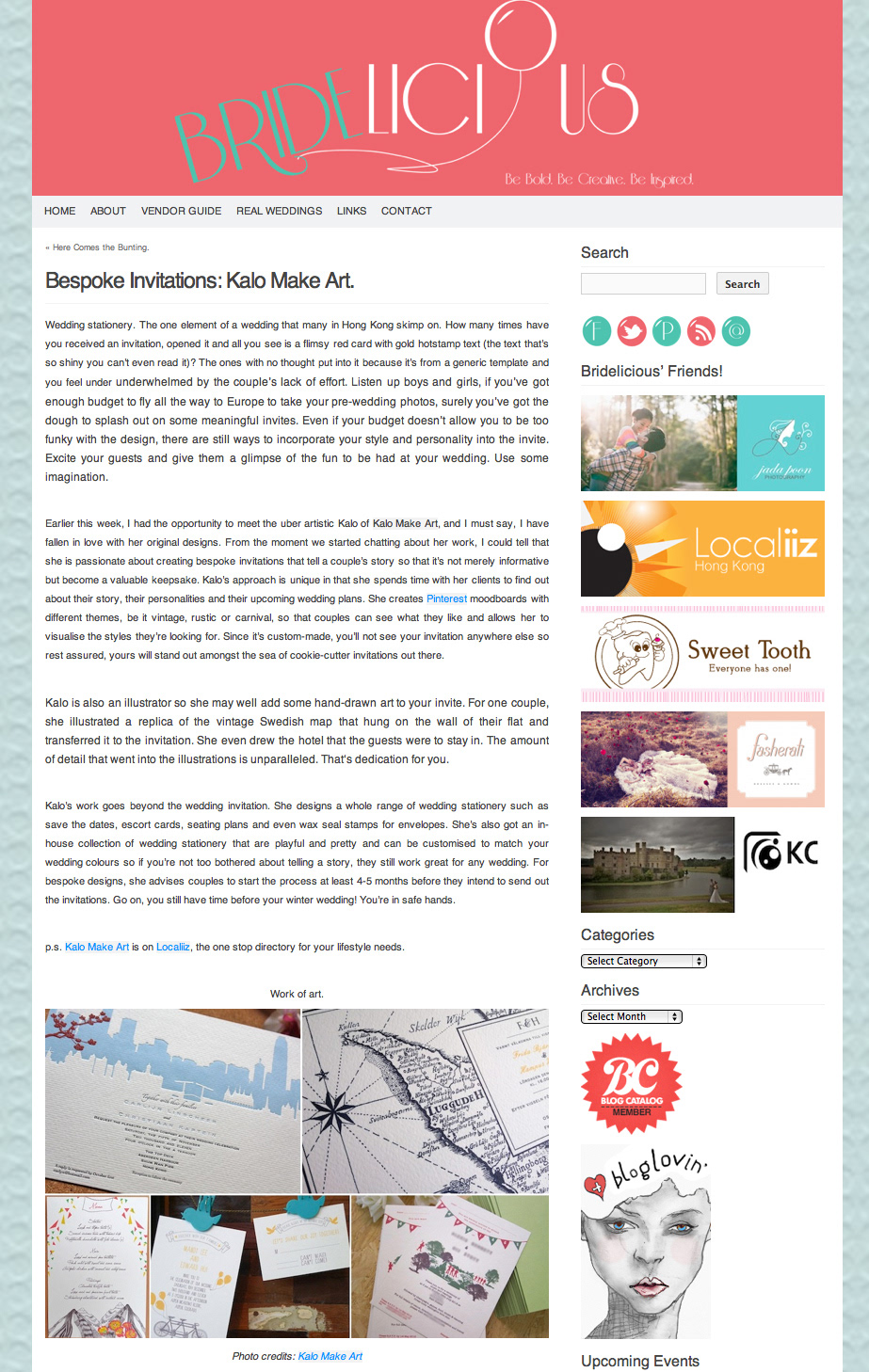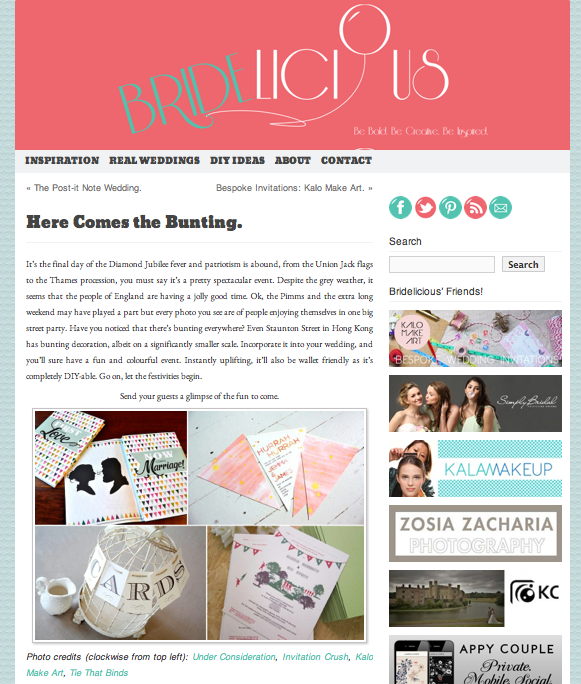 31 August 2012: Hand Painted Theme Wedding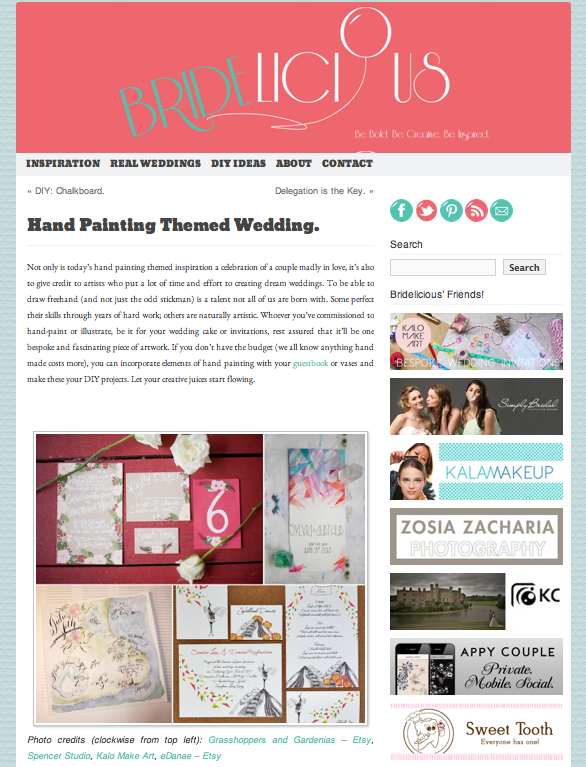 18 January 2013: DIY Printables - Kalo PrintAbles now on Etsy
A while back, I introduced to you the ever so talented Kalo of 
Kalo Make Art
, whose unique designs continue to inspire many couples to commission her bespoke services and create a set of wedding stationery that's one-of-a-kind. However, if you're pressed for time or would like to print your own invitations, then her newly launched 
Kalo PrintAbles
 line on 
Etsy
 will suit you perfectly. You can choose from a number of hand-illustrated designs from her collection and customise the colours to match your wedding theme and in return, Kalo will send you the customised PDF file. With prices starting at HK$288 (under US$40) for the invitation and RSVP card design, her new range is perfect for those on a tight budget. What are you waiting for?
As a treat to all Bridelicious readers and to celebrate Kalo's new line, she has shared with us the printable table numbers 1-18 in purple from her Flower Bomb Suite. And if you need additional numbers, visit her
Etsy store
 for more information on how to purchase the digital file.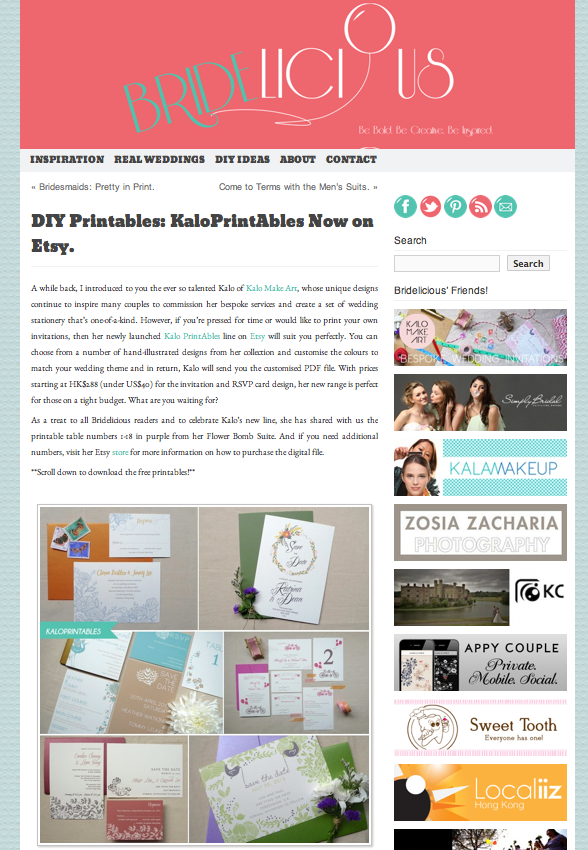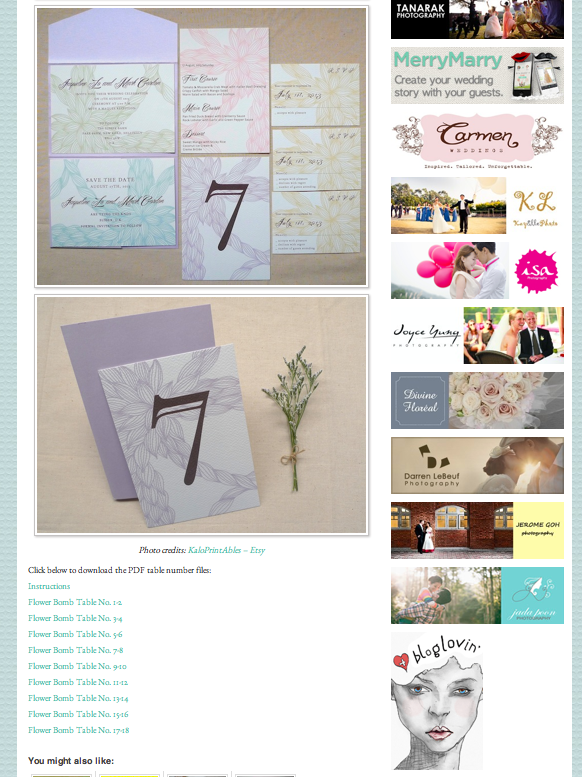 31 January 2013: Exclusive Printables by KaloPrintAbles: Starry Night Valentine's Day Card
To view the article, please click 
here
It's that time of year again when newly loved up couples begin planning their Valentine's Day surprises and those who aren't just wished they could disappear from the face of this earth. Ok, perhaps a little exaggerated but all the gooeyness that comes with this romantic day can be a bit much. So, instead of sending flowers (many girls use this as an opportunity to boast, especially in the office) and chocolates which honestly lacks creativity, why not pour your heart out in a DIY card? Love is splendid but sometimes, those sweet words are better left private. 
KaloPrintAbles
 has shared with us her Starry Night Valentine's Day Card in light teal/mint green to kick off your creative juices. What's best is that the card can be printed and used for any occasion – wedding, birthday, graduation, relocation and the list goes on.
**The Starry Night card comes in a blue background with yellow text as well. Visit 
KaloPrintAbles
 on Etsy to purchase this colour. For the free printable in light teal/mint green, click 
here
 to download.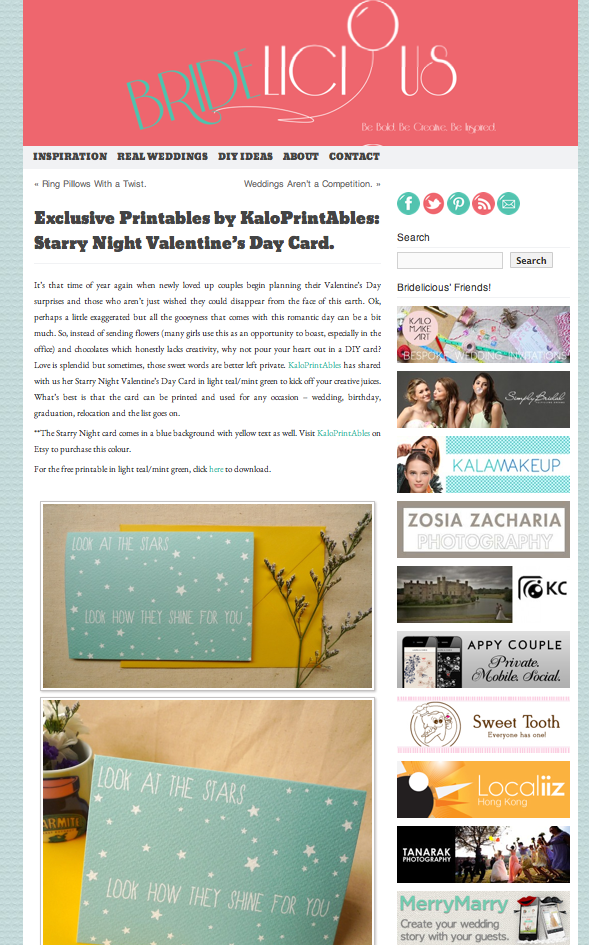 9 July 2013: DIY Flower Wreath Tutorial by KaloMakeArt
To view the article, please click 
here
Today I'm so excited to share with you a ridiculously neat DIY flower wreath tutorial by the bespoke wedding stationery designer Kalo of 
KaloMakeArt
 that'll not only dress up your cute flower girls and give them a pretty personal keepsake but it'll also add some pops of colour to your wedding day. In this tutorial, Kalo shows us how to make seven types of felt flowers which you can mix 'n match as you like. You can even adapt the tutorial and make your own corsage or boutonnières for the bridal party. Now, enough from me. I'll let Kalo do the talking.
p.s. A big congrats to Kalo who will be getting married next month. I can't wait to see what other DIY projects she has in store!